PROFILE TUAN YANG TERUTAMA YANG DI-PERTUA NEGERI SARAWAK TUN PEHIN SRI HAJI ABDUL TAIB MAHMUD
PROFILE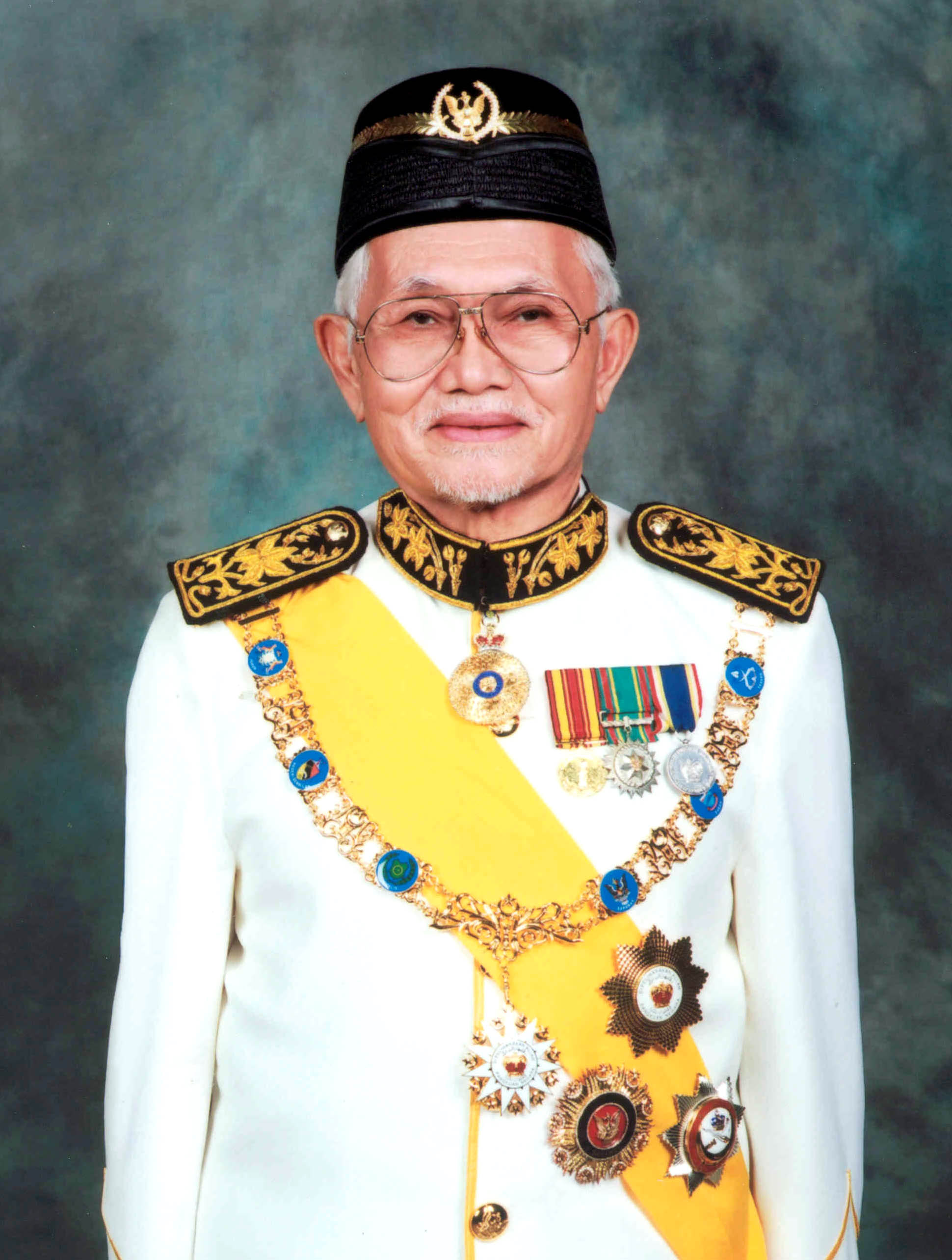 Tuan Yang Terutama
Yang di-Pertua Negeri Sarawak
Tun Pehin Sri Haji Abdul Taib Mahmud
S.M.N., S.B.S., D.K. (JOHOR), D.K. (BRUNEI), D.K. (PAHANG), S.P.D.K.,
S.U.M.W., S.S.D.K., D.G.S.M., D.P.P.N., S.S.S.A., S.P.M.T., KT. W.E. (THAILAND),
KEPN (INDONESIA), K.O.U. (KOREA), AO (AUSTRALIA), P.P.K.
-----------------------------------------------------------------------------------------------------------------
He was the youngest man ever to be sworn in as a state minister in the political history of Sarawak. It was 22nd July 1963 and he was barely 27 years of age. For the next 50 years he is to dedicate and devote his entire life to the development and welfare of the nation and the state of Sarawak. He served as a Federal Minister in various ministries for 13 years and as Chief Minister of Sarawak for 33 years. This is a record of service to King and country unsurpassed anywhere in Malaysia if not in the world. As Chief Minister of Sarawak he changed the skyline of the state.
He changed the economic landscape of Sarawak. He changed the political landscape of the land of the hornbills.
Abdul Taib Mahmud was born into an aristocratic family on 21st May 1936 in Sarawak's northern town of Miri, Sarawak. On his father's side, his grandfather was PEHIN DATO ORANG KAYA SETIA PENGIRAN MANAI, the Governor of Mukah. Sarawak at that time comprised various provinces under the Sultanate of Brunei. PEHIN DATO ORANG KAYA SETIA RAJA was the grandson of Mukah's supreme leader ORANG KAYA MANGKU NEGARA MUKAH PENGIRAN SRI PANGUS.
The genealogy on his mother's side is no less colourful and aristocratic tracing her root to PEHIN ORANG KAYA SERI WANGSA PENGIRAN TEMENGGONG PENGIRAN ANAK MAHMUD who was the son of SULTAN SAIFUL RIJAL of Brunei.
This aristocratic background is matched by his academic and scholastic brilliance when he won a Colombo Plan Scholarship to study law in the University of Adelaide, Australia. He passed his law degree with ease and flying colours. He declined the offer the job to be on the bench as a judge but chose to return to his beloved Sarawak to serve as a Public Prosecutor. He brought back with him a barrister's degree and a young beautiful Australian wife of Turkish descent.
Sarawak which has just removed its shackles of the British Colonial, was an economic backwater. Its longest road was a stretch of dirt road from Kuching outwards. It had no hotel in the capital worth speaking of. Its incidence of poverty soared up to over 70 percent. The national income of Sarawak could not sustain a small western city for one week. Its schools were ramshackle and the children went to those schools barefooted. Its 5,000 villages and longhouses scattered all over the state with virtually no infrastructure – making the task of developing Sarawak stupendous and almost impossible. Even the British could not develop Sarawak although Sarawak was under the Brookes and British rule for over 100 years. Things are to change and change is on the way. Pehin Sri Abdul Taib is to prove that he is the finest ruler ever to rule Sarawak from the first Governor of Sarawak Pengiran Indera Mahkota to the British Colonial Governors and post Malaysia Chief Ministers.
The astronomical rise of development in Sarawak is neither accidental nor coincidental. It is a combination of brilliant policies and meticulous implementation.
Tun Pehin Sri Abdul Taib is a visionary leader. But what differentiates him from other visionary leaders is that he is a man of action. He had the vision. He had the concept and the ideas. He implements these policies methodically and meticulously.
The turning point of Sarawak's history was on 26th March 1981. That was the day Tun Pehin Sri Abdul Taib was sworn in as the 4th Chief Minister of the largest state in Malaysia and at the same time one of, if not, the poorest state in Malaysia.
Sarawak was in a warring state with at least 27 ethnic groups. Political instability reigned supreme with members of political parties and state assemblymen leaving one group to join the other.
The state was subjected to political vicissitude with no attempt to elevate its economic stagnation. Malaysia was a young Federation.
The Federation had teething problems and the relationship between Kuching and Kuala Lumpur was bumpy.
Pehin Sri Abdul Taib was innovative and resourceful. He introduced a new policy that is the envy of many – POLITICS OF DEVELOPMENT. Political infighting whether inter or intra are to be subordinated to economic development because the goal is no longer political fighting but development and economic prosperity for the State.
The wind of change began to blow and for the first time efforts and energies in the state are devoted to economic development.
Tun Pehin Sri Abdul Taib himself is not only a lawyer. He is an economist who studied economies in Harvard, the United States of America. Economics and finance are his forte. His first ambition was to be an architect instead of a lawyer. It was admitted by his one-time Deputy Chief Minister, Datuk Patinggi Wong Soon Kai, that planning is Tun Pehin Sri's hallmark and his strong point. He would personally chair meetings on planning of the state and brief the bureaucrats what ought to be done instead of the other way round. He had travelled throughout the length and breath of Sarawak covering all the nooks and crannies except possibly 4 villages in the entire state.
Through Politics of Development the incidence of poverty from the soaring 70% was brought down until it went as low as a single digit. Currently the rate of poverty in Sarawak is 2.5%.
His years as a Federal Minister gave him the edge over other Borneo leaders in his relationship with the central Government. By being able to convince and persuade the Federal Government and with massive victory of Barisan Nasional in Sarawak in Parliamentary and State Election he was able to garner support and harness all the strength to develop Sarawak. Infrastructural development took place. There were roads, bridges, electricity, water supply and so forth. The momentum picked up and development gathered steam. The change in the skyline and the landscape required new approach and policy. Ever staying on top of the waves, Tun Pehin Sri came with a new policy.
The policy is an acronym – COME. He explained tirelessly to leaders, assemblymen, parliamentarians, bureaucrats and people what he meant by COME.
C - change
O - opportunity
M - mobility
E - equality
Sarawak had undergone dramatic and drastic change. Political change, economic change, cultural change and so on. Change has to be managed.
Opportunities are available and the population must be prepared and organised in taking advantage of opportunities that suddenly appear.
Because of these economic opportunities and job opportunities there is a movement in the population with rural population migrating to urban areas and with rural and urban population moving to industrial areas.
Tun Pehin Sri Abdul Taib started to talk about a vision that few would understand. He would speak to rallies, gatherings and winding-up speeches in the Dewan Undangan Negeri up to 4 hours to explain his concept, his idea and his vision.
He emphasized on equality. Although of aristocratic descent his approach is egalitarians. These must be equality by removing traditional barrier and social classes that create inequality in society.
Education is the best leveller in an uneven playing field. Where you started is not important. What is important is how to take the opportunity be it educational or economic to make it an even playing field.
This doctrine of levelling the uneven playing field through education, knowledge, entrepreneur skill is done under the policy of THE NEW REALITY.
He started to have campuses of Western or Australian universities in Sarawak. Today in Sarawak there are 6 universities. His former constituency in Samarahan was converted to be the educational hub of Sarawak.
In the olden days it took a few days by boat to travel from Samarahan to Kuching. Today it is well under 1 hour by road. These changes trigger other changes.
To overcome the impassable task of 5,000 villages and longhouses in the state, he identified trigger points and assembles those in geographically proximity into critical mass. Not all could grasp what the master economist and planner want, but the momentum of development went on unabated.
On the political front intrigues and squabbles within political parties and among political parties sprouted. Tun Pehin Sri Abdul Taib came with innovative political solution with new phrases that would add to a political vocabulary. In a political crisis when an established Sarawak National Party (SNAP) split and the breakaway faction led by young Iban intellectuals formed Parti Bansa Iban Sarawak (PBDS), Pehin Sri admitted the new party into the fold of the State Barisan Nasional although PBDS is not a Barisan Nasional component Government despite the objection of SNAP.
This is to prevent the Ibans from being outside the State Government. He came up with the concept of a Barisan Plus Government to allow the inclusion of PBDS although the latter is not a component of Barisan Nasional.
When there is an irreconcilable dispute in a Barisan component party sacking its members who are Ministers in the State Government, that BN component objected to those sacked members to form a new political party. Tun Pehin Sri Taib came into the innovative idea of a parking system whereby they can temporarily take shutter in existing other political parties whilst a solution is found or pending the time when the crisis would be resolved.
Tun Pehin Sri Abdul Taib had been successful to turn Sarawak into a blue state. Those who sack were Barisan Nasional and those who were sacked were also Barisan Nasional.
Tun Pehin Sri Abdul Taib formulated a brilliant budgetary strategy. This strategy leapfrog Sarawak's economy. The strategy is that out of a total budget 60% of the allocation is for development whilst 30% is for recurrent expenditure.
During the British colonial rule in 1954 Sarawak's imports were $130 million whilst exports were $125 million giving it an adverse trade balance of $5 million.
In 1964 when at the early stage of Malaysia the state planned to have a budget of $300 with the help of the Federal Government.
Under Tun Pehin Sri Taib the budget for 2013 is RM4.9 billion without taking into consideration of Federal Fund. Sarawak has no external debt. The financial rating by Mooney International and another international company Standard & Poor gave a consistent rating of 3A which is comparable with the financial rating of Saudi Arabia and Petronas.
As a result of Tun Pehin Sri Taib's policy of development, Sarawak GDP growth exceeded national average in 1995. To balance the development between urban and rural areas, he also endorsed town planning, natural resources planning, large-scale plantations, and native customary land (NCR) development. Sarawak Corridor of Renewable Energy (SCORE) which was introduced in 2008, is aimed to diversify the future economy of Sarawak.
Since 1981, the Gross Domestic Product (GDP) has grown from RM6.5 billion to RM19.7 billion in 1995 and increased further to an estimated of RM29.9 billion in 1999.
During his tenure, Tun Pehin Sri Taib has been able to discipline the cooperation of leaders from different political parties to reach a common political consensus. Pehin Sri Taib considered that his proudest achievements are in terms of economic development, social integration and industrialization in Sarawak.
In the next 5 years the state has an average of real GDP growth of 6% building a progressive society of high quality of human capital and good quality of life.
The biggest chunk of Sarawak GDP is oriented towards export which contribute to nearly RM30 billion reserve.
Tun Pehin Sri Abdul Taib's strategy for the future development of Sarawak is VISION 2030 through the development of SCORE.
SCORE is the acronym for Sarawak's Corridor of Renewable Energy. The SCORE plan is to "lope the economy into the global supply chain to be part of the whole economic growth".
There is a plan to develop hydro electric power projects. This will give Sarawak a competitive edge over other countries by providing cheaper source of energy. "Dams serve multiple purposes, including flood control, water irrigation, water supply and shipping navigation."
Hydro electric projects will be built according to market demand.
The energy development roadmap provides a certainty in Sarawak's future economic direction.
This will attract massive investments as currently witnessed in the corridor area stretching from northern Sarawak in SAMALAJU to TANJUNG MANIS in central Sarawak which is now the centre for HALAL HUB.
This is the next bold step of economic development with agriculture and manufacturing industries powered by the abundance of stable-priced energy and serviced by a vibrant of services sector undertaken mostly by the private sector.
Under Tun Pehin Sri Abdul Taib's leadership, Sarawak Barisan Nasional scored a spectacular victory during the Parliamentary Elections and State Elections as proved by the following results:
Parliamentary Elections:
1990 – 17 seats out of 27.
1995 – 26 seats out of 27.
1999 – all 28 seats contested.
2004 – 27 seats out of 28.
2008 – 30 seats out of 31.
2013 – 25 seats out of 31.
State Elections:
1991 – 49 seats out of 56.
1996 – 57 out of 62
2001 – 60 out of 62
2006 – 62 out of 71
2011 – 55 out of 71
These showed that Sarawak under the leadership of Tun Pehin Sri has contributed tremendously to the victory of Barisan Nasional in the nation in most of the elections.
For Tun Pehin Sri Abdul Taib's outstanding and starling services and contributions to the nation and state he received state and national awards and also internationally acclaimed awards.
They are as follows:
| | |
| --- | --- |
| (1) | Panglima Gemilang Darjah Kinabalu (P.G.D.K.) which carries the title "Datuk" by Sabah State Government in 1972; |
| (2) | Darjah Utama Yang Amat Mulia Bintang Kenyalang Sarawak (D.A.) which carries the title "Datuk Amar" in 1974; |
| (3) | Thai Royal Decoration of Knight Grand Cross Award, First Class (KtWE) from Thailand Government in 1979; |
| (4) | Korean Order of Unification (KOU) Award from Korea in 1979; |
| (5) | Datuk Patinggi Bintang Kenyalang (DP) which carries the title "Datuk Patinggi" in 1981; |
| (6) | Darjah Kartika Eka Paksi Naraya (KEPN) by Republic of Indonesia in 1986 |
| (7) | Darjah Gemilang Seri Melaka (D.G.S.M.) which carries the title "Dato Seri" by State Government of Melaka in 1988; |
| (8) | Darjah Panglima Setia Mahkota (P.S.M.) which carries the title "Tan Sri" by Duli Yang Maha Mulia Seri Paduka Baginda Almutawakkil Alallah Sultan Iskandar (DK), Yang di-Pertuan Agong Malaysia in 1989; |
| (9) | Darjah Mahkota Brunei Yang Amat Mulia (S.P.M.B.), First Class which carries the title "Datuk Seri Paduka" by Sultan and Yang di-Pertuan Negara Brunei Darussalam in Mac 1989; |
| (10) | Darjah Seri Setia Diraja Kedah (S.S.D.K.) which carries the title "Datuk Seri" by DYMM Sultan Kedah in 1991; |
| (11) | Darjah Kebesaran Sultan Ahmad Shah Pahang Yang Amat Dimulia Peringkat Pertama Sri Sultan Ahmad Shah Pahang (SSAP) which carries the title "Dato Sri" in 1992; |
| (12) | Darjah Seri Sultan Salahauddin Aziz (S.S.S.A.) which carries the title "Dato" by DYMM Sultan Selangor in 1994; |
| (13) | Darjah Seri Paduka Mahkota Terengganu (S.P.M.T.) Kelas Pertama, 13 November 1996; |
| (14) | Seri Panglima Darjah Kinabalu (S.P.D.K.) Kelas Pertama which carries the title "Datuk Seri Panglima" by Sabah State Government in 1999; |
| (15) | Pingat Cemerlang Delima (Emas) (P.C.D.) in conjunction wtih the State 40th Independent Anniversary in Malaysia in 2003; |
| (16) | Darjah Satria Bintang Sarawak (S.B.S.) which carries the title "Pehin Sri" by TYT Yang di-Pertua Negeri Sarawak in 2003; |
| (17) | Darjah Panglima Pangkuan Negeri which carries the title "Datuk Seri" by TYT Yang di-Pertua Negeri Pulau Pinang in 2005; |
| (18) | Darjah Kerabat Johor Yang Amat Dihormati Pangkat Pertama (DKI) by DYMM Baginda Sultan Johor Darul Takzim; |
| (19) | Darjah Kerabat Sri Indera Mahkota Pahang Yang Amat Dihormati (DK Pahang) by Sultan Pahang, Sultan Ahmad Shah in 2007; |
| (20) | Darjah Seri Utama Mahkota Wilayah (SUMW) by DYMM Yang di-Pertuan Agong Malaysia which carries the title "Datuk Seri" in 2008 in conjunction with the Federal Territory Day, 1st February 2008; |
| (21) | Darjah Kebesaran Seri Maharaja Mangku Negara (S.M.N.) by DYMM Yang di-Pertuan Agong Malaysia which carries the title "Tun" in 26th May 2014; and |
| (22) | Darjah Kerabat Laila Utama Yang Amat Dihormati (D.K.) by Sultan and Yang di-Pertuan Negara Brunei Darussalam in 14th August 2014. |
Apart from the above awards, Tun Pehin Sri also received various awards and appointments as follows:
| | |
| --- | --- |
| (1) | "Semangat Padi" (Emas), the SCOUT's highest award by TYT Yang di-Pertua Negeri Sarawak, Tun Datuk Patinggi Haji Ahmad Zaidi Adruce Muhammed Noor in 1990; |
| (2) | Pro-Canselor, Universiti Pertanian Malaysia, 8 August 1990; |
| (3) | The Honorary Degree of the University of Adelaide by University of Adelaide, Australia in 1994; |
| (4) | Pro-Canselor Universiti Malaysia Sarawak in July 1995; |
| (5) | Ijazah Kehormat Doktor Sains (Hon. DSc.) by University Putra Malaysia in 1997; |
| (6) | Ahli Kehormat Mayo Alumni Association by Mayo Clinic Alumni Association, Rochester, USA in 1998; |
| (7) | Fellow Kehormat Akademi Sains Islam by Islamic Academy of Sciences, Amman, Jordan in 1998; |
| (8) | Ijazah Kehormat Doctor of Technology by Curtin University of Technology, Australia in 2000; |
| (9) | Honorary Doctorate of Leadership by Lim Kok Wing University of Creative Technology, Kuala Lumpur in April 2010; |
| (10) | The Brand Laureate Brand Icons Leadership Awards 2012 by The Asia Pacific Brands Foundation, Kuala Lumpur in 2012; |
| (11) | Honorary Doctorate in Development Studies by University Malaysia Sarawak (UNIMAS) in October 2012. |
| (12) | Honorary Doctorate Of Laws By Universiti Teknologi Mara (Uitm) , Shah Alam on 9th November 2013; and |
| (13) | Chancellor of University Malaysia Sarawak (Unimas) on 14th October 2014. |
He is currently married to YABhg. Toh Puan Raghad Kurdi Taib, an Arab lady hailed from Syria.
Pejabat Yang di-Pertua Negeri Sarawak
Astana, Petra Jaya
KUCHING, SARAWAK